Affiliate Marketing: Sell Other People's Stuff Online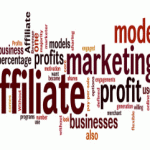 Because affiliate marketing does not require that you have your own products to sell, I consider it the
fastest and simplest way to start an Internet business
– especially for those new to online business and Internet marketing.
In a nutshell, affiliate marketing works like this:
You join a merchant's affiliate program; e.g. Amazon, Friendfinder, Zappos, Clickbank, Commission Junction.
You place your affiliate link for that program somewhere on your website. You can also place your affiliate link any where you make a post.
When a visitor clicks your affiliate URL, lands on your page or clicks through that link and buys a product (or fills in a form, or gives the merchant an email address, etc.), you are credited with the sale (click, lead, referral) and make a commission.
The company then sends you a check.
Pretty simple but it does take consistency and work. You can earn money participating in affiliate marketing but you have to stick with it. You may earn some money right away or you may earn money in 3 to 6 months. Check out some videos' on YouTube for more information about how you can go about submitting, advertising and promoting your affiliate links and products.
Here are some idea's to help you decide whether or not you should become an affiliate marketer.
Software and information products, in particular, are the best-selling products on the 'Net and enjoy the best profit margins. Most cost virtually nothing but time to develop and entail no storage or shipping costs.
Can you write? Then write an ebook to sell on Clickbank and Amazon. You can even turn it into a softcover using a PoD (Print-on-Demand) service. Everyone has knowledge that someone else wants and there are a number of ways to produce an info product without having to write a word.
Are you a programmer? Create a piece of software for the business community or better yet, build an iPad application. An October 2011 and beyond, a report stated that there are half a million apps in the Apple store, 140 thousand of which are iPad apps.
Build A Membership Site: If you have your own infoproduct, you have the basis for creating a membership site. In a membership site, your customers can be offered so much more than a one-time PDF download, such as; videos, a forum, a news blog and fresh information on a regular basis. I've found that this method of delivery simplifies matters when I have new material introduced by way of emails. Just post to the blog and every member is automatically notified by email.
Sell Your Services: Many programmers, writers, graphic artists and data entry workers sell their services online through sites such as Elance or Fiverr. One friend of mine makes her living designing business cards and other printed materials for businesses. She sells her design service online.
Become a Reseller: Buying resale rights and reselling products is a little more expensive to set up than affiliate program sales, but you also make more money as a reseller. for example, Charlie used to sell software that helps people automatically create killer headlines. I could have sold this software as an affiliate and earned a 50% commission on each $29 sale ($14.50 per sale). However, it made more sense to buy the resale rights for $79.00, which allowed me to keep 100% of the sale price, or the full $29.00 for each sale made. After selling only 4 copies, I had covered my cost for the resale licence and was earning 100% profits on each copy sold.
Sell At Online Auction Sites: If you're like most people, you probably have things in your basement, closets or garage that you'd like to get rid of but are too valuable to throw away. Well, have you ever heard the saying, "One man's trash is another man's treasure?" Not only do other people want your old stuff, they're willing to pay for it – and you can reach a much wider market by selling that stuff through an online auction site like eBay, DealDash or QuiBids.
These are a few of the most common and sometimes best ways to earn income online as an affiliate marketer. You have to try things out, see what works for you and find the niche that suits you, hard work, consistency and patience. Best of luck with your affiliate venture.